CARDI IS THE AMERICAN DREAM.
Since her  "bad b*tch" anthem – Bodak Yellow dropped last year, everything that she touches has turned to gold. Recently she's expanded her brand, including partnering with Tom Ford on a lipstick color and launching a clothing line with Fashion Nova.
Let's be honest – most of the former or current cast from Love and Hip Hop are not taken as seriously. Viewers know that the show is more entertainment than reality, and think the artists on the show aren't worth listening to. But there was something about Cardi B that stood out and she's been on the rise since leaving the show. Her ability to be authentic to her brand has made Cardi a household name.
Your personal brand is everything from your demeanor to your career / business to your social media posts. It's who you are on and offline.
Here's 5 gems we can learn from Cardi B and her ratchet classic, Bodak Yellow, on personal branding:

1. Authenticity is major key
Hate her or love her, it's undeniable that Cardi B is true to herself. She's goofy, loud, in your face, honest and has no filter. She's built her brand off of this authenticity – it's apparent in her music, interviews, performances and social media posts. Cardi isn't afraid to show her personality. In fact, she uses that to get ahead and doesn't feel the need to assimilate to someone else's culture or brand.
Your personal brand is supposed to be just that – PERSONAL. When building your brand, take some time to think about who you are and how people would describe you. Are you inspirational or encouraging? Are you blunt and always one to keep it real? After reflecting on who you are, make sure those characteristics line up whenever someone has an encounter with you.
Of course, if your brand is more on the conservative side you'll want to be more buttoned up and professional, but that doesn't mean you have to hide your personality. That's what makes you shine the most.
2. Embrace your glow up
"People make it so negative, but stripping saved me from a lot of things."

– Cardi B said during an interview with VLAD TV.
Cardi has no shame in her past because she knows that it helped get her to where she is now. She turned to stripping to escape an abusive boyfriend, then she used Love and Hip Hop as a platform to grow her brand. By owning her narrative, she turned anything negative that could be used against her into something positive.
When building your personal brand, leverage the highs and lows of your glow up – don't try to hide who you are and where you come from. That's what make you authentic – going back to gem #1.
3. Be catchy, not corny
There's so many quotable lines in Bodak Yellow. You could tell that Cardi was (rightfully so) feeling herself with she wrote that song.
"Look, I don't dance now / I make money moves"

"They see pictures, they say goals / B*tch, I'm who they tryna be"

"And I just checked my accounts / Turns out, I'm rich, I'm rich, I'm rich / I put my hand above my hip / I bet, you dip, he dip, she dip"
With lines that makes you sing along and a fire beat that sparked a Bodak Yellow challenge on social media, Cardi created a song that none of us can get out of our head (whether we'd like to or not). And unlike some of the other breakout artists from Love and Hip Hop, she wasn't a cornball with it either.
Your personal brand has to break through the clutter and be memorable. Fill a need in your industry; write an opinion editorial that will really make people think. Whatever you do, make sure people catch on and take note. Just don't be corny and try to mimic someone else's brand.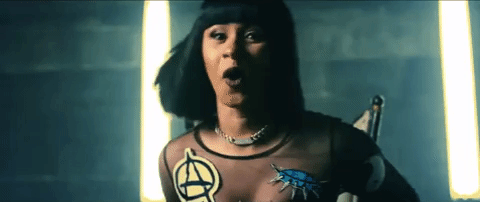 4. Know your audience and fuel off the naysayers
The point of Bodak Yellow is to say that Cardi is poppin and her haters aren't. She used their negativity to write a track that the NY Times dubbed as the rap anthem of the summer. Cardi is definitely an acquired taste – not everyone is going to identify with her realness but it's clear that she isn't trying to please everyone.
While everyone you encounter on and offline will see your personal brand, they all aren't your target audience. Everyone will not like you (and your brand), but that's more reason to hone in on who you're trying to make a genuine connection with.
5. Work your ass off
"Dropped two mixtapes in six months / What b*tch working as hard as me?"
Cardi B's brand wasn't build in a day and neither will yours. It takes hard work and consistency to reach your personal branding goals – whether that be building your network, moving up the corporate ladder, launching a business or something else.
It should be clear that no matter who you are on the internet and in person, you're working hard at whatever you're doing and in turn, making money moves. Congrats to Cardi B for her much deserved success! She shows us that we can build an authentic brand without having to change who we are.
STAY PLUGGED IN
We'd love to connect with you. Here are a few ways you can get down with the Intecoo team:
Join the Slack crew: Connect with other black and brown content creators from all over. Inside we're sharing opportunities, tackling topics and supporting one another's work.
Stay plugged in with our email list: We'll send you more content about dope campaigns, media trends, culture shifts, and new technology. We promise to only share gems whenever we pop into your inbox.